Kon Boot For Windows 7
We will not collect any personal data from you we do not need. Moreover, its stuck here even I wait for a long time without any response. If you are the only person planning to use the license, then the Personal License is the best choice for you. Without overwriting your old password! After you logon you can plug the network cable back in.
If prompted, the password is kon-boot. For example, you can boot up the computer with Kon-Boot, log in as a Guest and add a new user or even reset the administrator password! The Kon-Boot password hacking tool has to be the easiest, and fastest, free Windows password recovery tool I've used. Unfortunately, minnal oru kodi mp3 Windows will not let you do that from within your account right now.
Thankfully, tons of tools out there to bypass or recover lost Windows logon password. You have not saved any software.
Finally, open the program from desktop shortcut as administrator. How long we keep your data We will keep your basic personal data name, address, contact details for a minimum time necessary. You can check it on the right side. Read on for more of my thoughts on this program, including a short how-to. If you wish to raise a complaint on how we have handled your personal data, you can contact us to have the matter investigated.
After a few more seconds the computer will start to boot normally. Kon-Boot is easy and fast, making the password reset task in Windows one of the most efficient I've seen. Reset Forgotten Password on Target Account The program main interface will be presented once booting from the disk. There is no password for the download. We only collect basic personal data about you which does not include any special types of information.
Learn how to download and use Kot-Boot to bypass Windows password in three easy steps. This information is not shared with third purposes. If you have forgotten Windows user account password, then you can use the password reset disk tool.
You are also not allowed to use kon-boot on computers which are not your property. Feel free to delete the administrator account you created to reset your password from. Have you lost your password?
Not meeting system requirements cases will not be refunded. Unlike other password reset tools, this isn't the end of the story. Once this is all done, be sure to create a password reset disk so you can avoid using Kon-Boot ever again! You will be surprised to see that you can log in the computer without any password.
Ignoring the system requirements is also not qualified for refund. Once Windows starts, just log in to your account with a blank password. The next time you start the computer without Kon-Boot, the original password will be back, the temporary changes will be discarded and the system will behave as if nothing has happened.
Then follow the step-by-step instructions to install the program on the computer. The rest of the process is automatic.
What we would also like to do with your data We would however like to use your name and email address to inform you of our future offers, similar products, software license management and security. Unfortunately, most of these tools are paid ones. Windows Password Reset Standard. Another great source for some really awesome hacks. The console window will show on the user selection or password entry screen and will allow you to execute similar commands to the desktop privilege escalation function.
Kon-Boot Commercial Version
If you want to find out what the password is without resetting it first, you can try to crack it with a tool such as Ophcrack. What are your rights If at any point you believe the information we process on you is incorrect you can request to see this information and have it corrected or deleted. Kon-boot can be only installed by using the original installer. Do note that the Sticky Keys function needs to be enabled in Windows, and it should be on by default unless you have turned it off manually.
Forgot Windows 7 Administrator Password Try Kon-Boot
My favorite part of this program is that it only took a few clicks to successfully reset the password. Would you mind giving me the link for download? Full command-line support for use in scripts.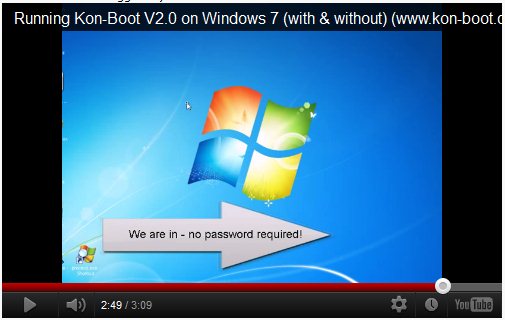 Features of Kon Boot Download Full
Do you want to review Kon-Boot? One of my friends told me to use Kon-Boot, which it is a powerful program to reset forgotten password on Windows.